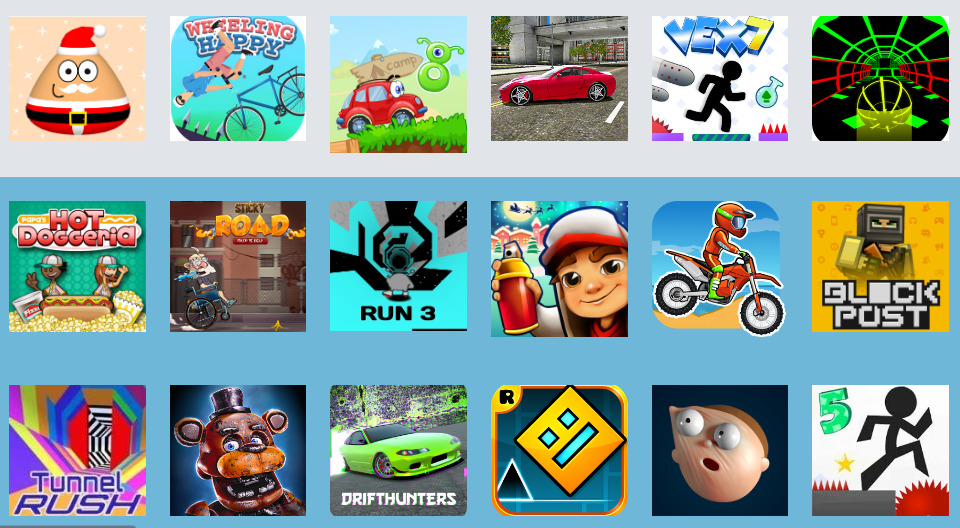 School can be a challenging and demanding environment, but it's also important to have some fun and relaxation during your breaks. One way to do that is by playing unblocked games. Unblocked games are a great way to unwind and take a break from your studies. In this article, we will explore five of the best unblocked games that you can enjoy at school for free. These games are not only entertaining but also safe and appropriate for school environments.
1. Cool Math Games
Cool Math Games is a fantastic resource for students looking to have some fun while sharpening their math skills. This website offers a wide variety of games that cover different math concepts, from basic arithmetic to more advanced topics. One of the most popular games on Cool Math Games is "Run 3," an endless runner game that challenges your spatial awareness and reflexes. Another favorite is "Fireboy and Watergirl," a cooperative puzzle-platformer that requires teamwork and problem-solving skills.
Cool Math Games is known for its colorful and user-friendly interface, making it easy to navigate and find games that suit your interests and skill level. The best part is that these games are designed to be educational, so you can enjoy them guilt-free during your school breaks.
2. Slither.io
If you're a fan of classic arcade games, Slither.io is a must-try. This game takes inspiration from the retro game Snake but adds a multiplayer twist. You control a colorful snake and compete against other players in a battle for survival. The goal is to grow your snake by consuming colorful dots while avoiding collisions with other snakes. It's a simple concept, yet incredibly addictive.
Slither.io is an excellent choice for quick gaming sessions during your free time at school. Since it's a web-based game, you can easily access it from any computer with an internet connection. The gameplay is very simple, making it accessible to players of all skill levels. Plus, the competitive element adds an exciting challenge, as you aim to climb the leaderboard and become the largest snake in the arena.
3. Slope
Slope is a fast-paced and visually stunning 3D running game that will test your reflexes and agility. In this game, you control a ball rolling down a neon-colored slope filled with obstacles and challenging twists. Your objective is to guide the ball through the course while avoiding the barriers and staying on the track for as long as possible.
What makes Slope so addictive is its combination of simple controls and increasingly difficult levels. As you progress, the game becomes more challenging, requiring precise timing and quick thinking. It's a great game to play during short breaks at school, as each round can be completed in a matter of minutes. Plus, the dynamic graphics and smooth gameplay make it a visually captivating experience.
4. 2048
If you enjoy brain-teasing puzzle games, 2048 is a perfect choice. This game has a minimalist design and is incredibly easy to pick up but challenging to master. The goal is to slide numbered tiles across a 4×4 grid, combining tiles with the same number to create larger numbers. Your ultimate objective is to reach the elusive 2048 tile.
2048 is an excellent game for school because it promotes critical thinking and strategy. It's not only entertaining but also a great way to exercise your brain during breaks. Since it doesn't require a time commitment, you can play a quick round whenever you have a few minutes to spare. It's a game that encourages you to improve your skills over time, making it a satisfying choice for students.
5. Tank Trouble
Tank Trouble is a classic multiplayer tank battle game that you can enjoy with your friends during lunch breaks or free periods. The game's objective is simple: eliminate your opponents by strategically shooting and maneuvering your tank in a maze-like arena. The controls are intuitive, allowing players to focus on tactics and precision.
What sets Tank Trouble apart is its local multiplayer option. You can invite your classmates to join the game, either competing against each other or forming alliances for team play. This social aspect makes Tank Trouble a fun and interactive choice for school gaming sessions. Plus, the straightforward gameplay ensures that everyone can participate, regardless of their gaming experience.
Conclusion
While school is primarily a place for learning and academic growth, it's also important to take breaks and have some fun. Unblocked games offer a safe and enjoyable way to relax during your downtime at school. From educational games like Cool Math Games to adrenaline-pumping challenges like Slope, there are plenty of options to suit your preferences and skill level.
Remember to balance your gaming with your studies, and always be mindful of school rules and policies regarding internet usage and gaming during school hours. These five unblocked games can provide a healthy dose of entertainment while still keeping your academic priorities in check. So, the next time you have a break at school, why not indulge in a quick gaming session to refresh your mind and recharge your energy?