Are you an artist or photographer in Raleigh, North Carolina, looking to take your artwork to the next level? Do you want to display your masterpieces with elegance and sophistication? If so, consider stretch canvas printing, a fantastic way to transform your creations into beautiful, long-lasting pieces of art. Heritage Signs & Displays offers top-notch stretch canvas printing services in Raleigh, NC, that can bring your vision to life.
Why Choose Stretch Canvas Printing?
Stretch canvas printing is a unique and popular method of reproducing art and photographs. Unlike traditional paper prints, canvas prints provide a textured and three-dimensional look, adding depth and character to your images. The texture enhances the visual appeal, making your artwork or photos stand out in any room.
Here are some compelling reasons to choose stretch canvas printing:
Durability: Canvas prints are built to last. They are resistant to fading, moisture, and environmental factors, ensuring your artwork remains vibrant and beautiful for years to come.
Versatility: Canvas prints can be customized in various sizes and shapes, giving you the freedom to choose the perfect dimensions to suit your space.
Gallery-Worthy Aesthetics: The texture of canvas adds a touch of elegance to your art, making it suitable for gallery exhibitions or high-end décor.
Personalization: Heritage Signs & Displays offers a range of customization options, from canvas size to frame styles, allowing you to create a unique and personalized piece of art.
Easy Maintenance: Canvas prints are easy to clean and maintain, ensuring your art retains its charm with minimal effort.
The Heritage Printing Difference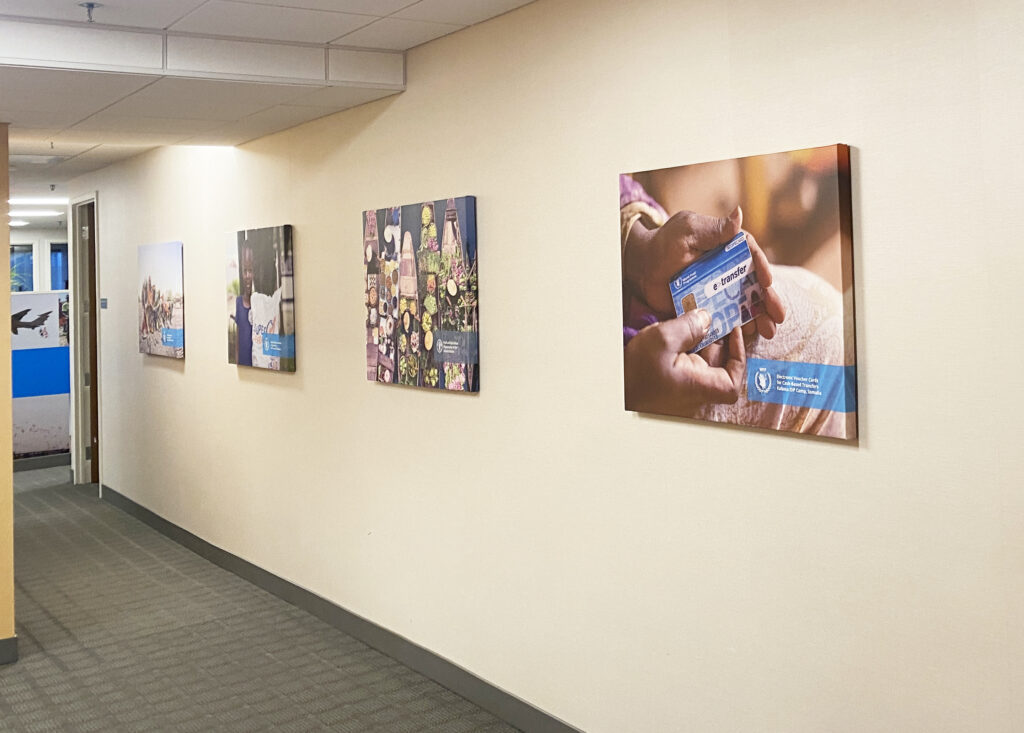 Heritage Signs & Displays has earned a reputation for delivering top-quality printing services in Raleigh, NC, and beyond. When it comes to stretch canvas printing, we go the extra mile to ensure your artwork or photographs look breathtaking and captivating. Here's what sets us apart:
State-of-the-Art Printing Technology: We use the latest printing technology to ensure precision, clarity, and vibrant colors in every canvas print. Your artwork will be reproduced with unmatched quality.
Experienced Team: Our team of professionals has extensive experience in stretch canvas printing. We pay close attention to every detail, ensuring your artwork is faithfully represented.
Customization Options: We understand that each piece of art is unique. That's why we offer a wide range of customization options, allowing you to choose the perfect canvas size, frame, and finish to complement your artwork.
Quick Turnaround: We value your time. Our efficient printing process ensures a quick turnaround time, so you can have your canvas prints ready to display in no time.
Competitive Pricing: We believe that high-quality stretch canvas printing shouldn't break the bank. Our competitive pricing makes it affordable for artists and photographers in Raleigh, NC, to access premium canvas printing services.
How Stretch Canvas Printing Works
At Heritage Signs & Displays, we've simplified the canvas printing process to make it easy and hassle-free for our clients. Here's a step-by-step guide to how it works:
Consultation: We start by discussing your needs and vision. This initial consultation helps us understand the type of canvas print you want to create.
Image Upload: You provide us with the image or artwork you want to print on canvas. We accept a wide range of file formats to accommodate your needs.
Customization: We work with you to choose the perfect canvas size, frame style, and finish. We can also enhance the image's color and clarity if necessary.
Printing: Our state-of-the-art printers bring your artwork to life on high-quality canvas material. We ensure the colors are vibrant and the details are crisp.
Quality Control: Each canvas print undergoes a thorough quality control process to ensure it meets our high standards. We won't let any imperfections go unnoticed.
Delivery: Once your canvas prints pass our rigorous quality checks, we package them securely and deliver them to your doorstep.
Display: With your canvas prints in hand, you can now showcase your art or photographs with pride and confidence.
Where to Display Your Canvas Prints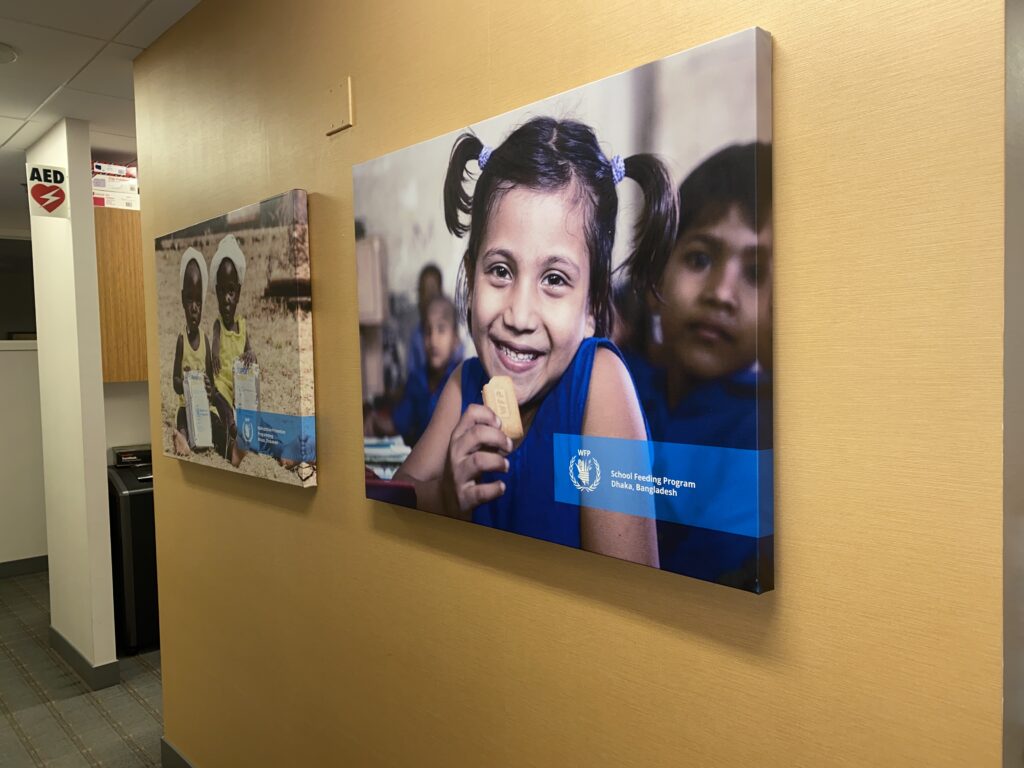 Canvas prints offer incredible versatility, making them suitable for various spaces. Here are some ideas for where you can display your stretch canvas prints:
Home Decor: Elevate the aesthetics of your home by displaying canvas prints in your living room, bedroom, or hallway. You can choose a single large canvas as a focal point or create a gallery wall with multiple smaller prints.
Office and Workspace: Add a touch of sophistication to your workspace by decorating your office with canvas prints. It creates a professional and inspiring environment.
Gift Ideas: Canvas prints make for excellent personalized gifts. Whether it's a wedding photo for newlyweds or a cherished family portrait, a canvas print is a thoughtful and meaningful present.
Art Exhibitions: Artists looking to showcase their work in galleries can greatly benefit from canvas prints. The texture and gallery-worthy aesthetics of canvas add a touch of professionalism to your art.
Business Spaces: If you run a business or a retail store in Raleigh, NC, canvas prints can be used for branding and décor. Display your company's values, mission statement, or product images in a visually appealing way.
The Heritage Printing Guarantee
When you choose Heritage Signs & Displays for your stretch canvas printing in Raleigh, NC, you are choosing quality, professionalism, and a commitment to exceeding your expectations. We are confident in our ability to deliver exceptional canvas prints, and that's why we offer a satisfaction guarantee. If you're not delighted with the final result, we'll make it right. Your satisfaction is our priority.
Get Started with Stretch Canvas Printing in Raleigh, NC
Now that you know the many advantages of stretch canvas printing and why Heritage Signs & Displays is the ideal choice for your canvas printing needs, it's time to take action. Elevate your art or photographs to a new level of elegance and sophistication with our top-quality canvas printing services.
Don't wait any longer to transform your images into stunning pieces of art. Whether you're an artist looking to exhibit your work or a homeowner looking to decorate your space, Heritage Signs & Displays is here to bring your vision to life.
Contact Heritage Signs & Displays now and let us help you create beautiful canvas prints that will leave a lasting impression. Your masterpiece deserves the best, and we are here to make it happen.
Elevate your art with stretch canvas printing from Heritage Signs & Displays in Raleigh, NC. Contact us today and turn your vision into a captivating reality!