Unquestionably charming, scroll wedding invites can instantly take your guests back to a more elegant and romantic time in history. These invites, with their distinctive design and fine craftsmanship, are the ideal way to start off your special day. The delicate scrolls, which are frequently embellished with elaborate designs and embellishments, arouse excitement and build suspense in your guests as they unfold the invitation to discover the specifics of your wedding celebration. Your loved ones will be deeply touched by these classic and elegant invitations, and they will feel incredibly grateful to be a part of your love tale.
Scroll Wedding Invitations' Past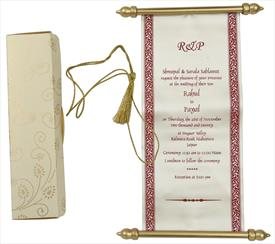 In the past, ornate scrolls were used to notify and invite visitors to significant events and celebrations. This is where the custom of utilizing scrolls for wedding invitations originated. Scrolls were saved for the most important occasions and regarded as symbols of rank and distinction in many cultures. These scrolls' elaborate calligraphy and designs attested to the hosts' sophistication and riches. Scroll wedding invitations from today still encapsulate this rich past by mixing contemporary styles with a hint of vintage charm.
Various Styles of Scroll Wedding Invites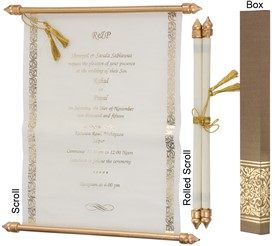 You can select the ideal invitation that matches your wedding theme and personal preferences from a wide range of styles and materials available for scroll wedding invites. Here are a few well-liked choices to think about:
Fabric Scrolls: Exquisite materials like velvet, silk, or satin are used to make these invitations. A hint of luxury is added to your wedding invitations with the delicate texture and tasteful draping of the cloth.
Paper Scrolls: Although less expensive, paper scrolls nevertheless have a sophisticated appearance. They can be personalized with different patterns, hues, and embellishments, and constructed from premium cardstock or handcrafted paper.
Scrolls in boxes: These make for a very elegant and one-of-a-kind display. These invites come in elaborate boxes that are frequently embellished with ribbons, wax seals, or elaborate patterns. For your visitors, there's an added element of surprise and delight when they open the box to find the scroll inside.
Selecting the Ideal Scroll Design for Wedding Invitations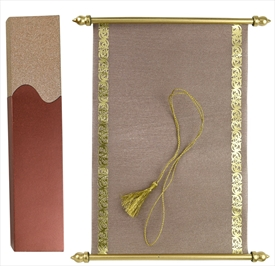 There are a few things to take into account while choosing the design for your scroll wedding invites. These can help you focus and identify the ideal fit for your wedding's theme and aesthetic.
Theme and Color Palette: Consider your wedding's general theme and color palette. Are you picturing a modern, vintage, or rustic wedding? Select an invitation design that goes well with the color scheme and theme you have decided on.
Printing Method: Take into account which printing method would best highlight the design you have selected. The visual impact of your invites can be improved with popular options including letterpress, foil stamping, and digital printing.
Adornments: Choose whether or not to adorn your scroll invites with crystals, ribbons, or wax seals. These little accents can improve the overall style and bring in some glitz and elegance.
Personalizing Your Wedding Scroll Invitations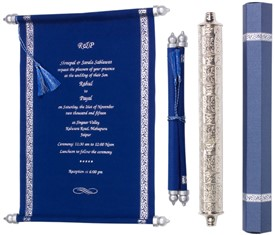 Customizing scroll wedding invitations to showcase your distinct love story and sense of style is one of its many benefits. Here are some ideas for putting a unique spin on your invitations:
Initials or Monogram: Add your initials or monogram to the scroll's design. This gives them a unique personal touch and makes the invitations genuinely unique.
Personalized images: Collaborate with a gifted illustrator to produce one-of-a-kind images that embody your love tale. These graphics will make your invitations genuinely unique, whether they're of the location of your first date or a symbol that has special value for you both.
Unusual Materials: Try a variety of materials to create a unique scroll invitation. Think about adding accessories like feathers, dried flowers, or even a tiny remembrance that can be removed from the scroll and preserved.
Scroll for Etiquette and Wording for Wedding Invitations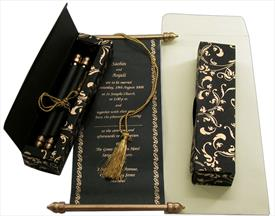 Your wedding's formality and tone should be reflected in the wording of your scroll invitations. When composing your invitation, keep the following points in mind:
Whether you want your invitation to be official or informal is up to you. Informal invitations allow for greater freedom and customization, while formal invitations usually follow established protocol and employ standard wording.
List the names of the hosts, including the couple and their parents, in a clear and concise manner. The couple's names should come next, with the bride's name being highlighted initially.
Provide all the pertinent information about the wedding, such as the date, time, and location. Don't forget to provide the whole address, any extra directions, and any information regarding the dress code.
How to Put Together and Send Scroll Invitations for Weddings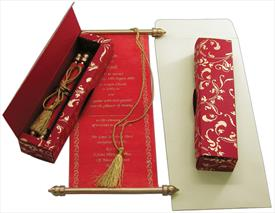 Scroll wedding invitation assembly and delivery need a little thought and attention to detail to guarantee they arrive securely and leave a lasting impact. The actions to take are as follows:
Putting it together: Gently coil the scroll invitation and fasten it with a seal or ribbon. If your invites come in a box, tuck the scroll inside and shut the lid firmly.
Packaging: To keep the scrolls safe while in transportation, use padded envelopes or boxes. For more protection, think about using bubble wrap or other cushioning.
Mailing: Select a reputable postal provider that provides valuables with insurance and tracking. In case there are any delivery problems, make sure you include your return address and carefully address the envelopes.
Conclusion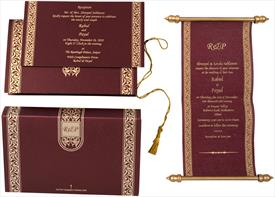 A striking option for couples looking to make a big impression and leave a lasting impression on their guests are Scroll wedding invitations. With the customization options available, these invitations' charm and elegance let you convey your special love story in a way that is utterly captivating. Every stage of the process, from choosing the ideal design to meticulously assembling and mailing, heightens the thrill and anticipation for your wedding day. In order to let your wedding invites capture the elegance and romance of your love tale, give in to their charm.